Available for pickup in 2 stores:
Arlington, VA Store
Burke, VA Store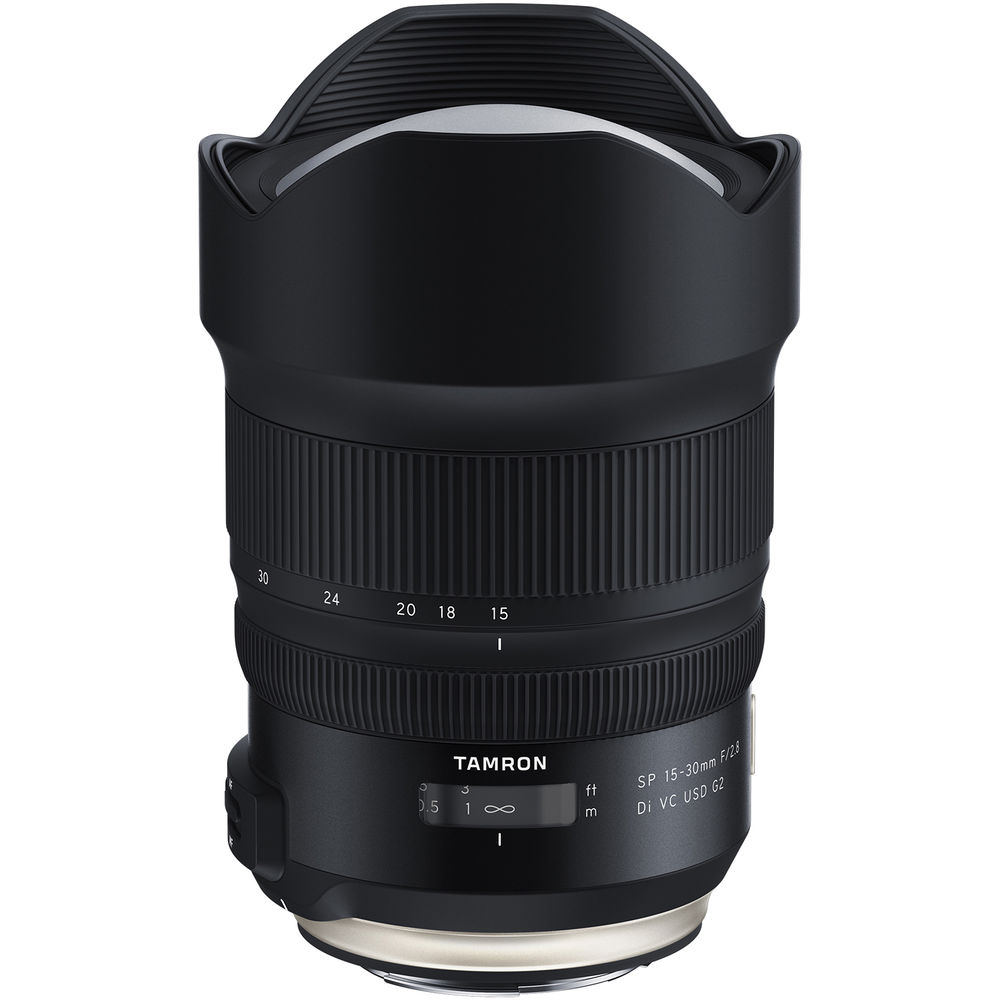 GOT ONE TO SELL?
We buy used gear at top market value!
The second-generation Tamron SP 15-30mm f/2.8 Di VC USD G2 for Nikon and Canon DSLR cameras is a handy and versatile lens designed not only to cover a range of breathtaking ultra wide-angle perspectives for full-frame camera systems but also to capture sharp and clear imagery with its sophisticated optics. Its focal range offers an equivalent of 22.5-45mm when mounted on DX-format models while its fixed maximum aperture of f/2.8 produces well-exposed images and beautiful bokeh quality throughout the entire zoom. Equipped with aspherical and low dispersion glass elements layered with three types of specialized lens coatings, the lens reduces both chromatic and spherical aberrations and minimizes flare and ghosting for clearer, more vivid, and more accurate image details. Its Vibration Compensation (VC) image stabilization technology reduces up to 4.5 stops of camera shake for sharper images and smoother videos, even when shooting handheld or when utilizing slow shutter speeds. An Ultrasonic Silent Drive (USD) motor is also built into the lens for quick and noiseless AF focusing, as well as full-time manual focus override. With a weather-sealed and moisture-resistant body, this all-around lens can withstand particularly tricky environments and difficult shooting situations with ease.
High optical performance
With a well-established reputation for ultra-high-quality wideangle zoom lenses with its Model A012, Tamron carries on the tradition of high optical performance with the new SP 15-30mm F/2.8 Di VC USD G2 (Model A041). By incorporating an XGM (eXpanded Glass Molded Aspherical) lens element, as well as multiple LD (Low Dispersion) lens elements, the distortion and lateral chromatic aberrations so common in wideangle shooting have been greatly minimized.
Newly developed AX Coating
A newly developed AX (Anti-reflection eXpand) Coating has been applied to reduce ghosting and flare more thoroughly than ever before. The optical performance in this high-speed F/2.8 ultra-wideangle zoom lens is outstanding.In addition, the built-in Dual MPU enables vastly improved AF speed and image stabilization.
Speed and Image stabilization
This is a next-generation super high-quality, high-speed ultra-wideangle zoom lens with a wide range of features that serve to revitalize the users shooting experience. With the www.tamron-usa.com release of this model, three1 of Tamrons high-speed F/2.8 zoom lens with VC are now G2.
Super high-quality zoom lens
The Model A041 is an F/2.8 ultra-wideangle lens with a focal length starting at 15mm that offers high resolution even in the peripheral area of the image. By incorporating an XGM lens element andmultiple LD. lens elements to curtail distortion and lateral chromatic aberrations, Tamron has achieved a degree of resolution throughout the range that is just as good as a fixed focal length lens.
Reviews
What's In The Box
SP 15-30mm F/2.8 DI VC USD G2 Lens
Front Lens Cap
Rear Lens Cap
Flower Shaped Hood
6 Year USA Warranty